Martin Bekkelund wrote about a friend's painful customer service experience with Amazon — specifically, how Amazon closed this individual's account without the option for recovery nor an explanation as to why:
As a long-term writer about technology, DRM, privacy and user rights, this Amazon example shows the very worst of DRM. If the retailer, in this case Amazon, thinks you're a crook, they will throw you out and take away everything that you bought. And if you disagree, you're totally outlawed. Not only is your account closed, all your books that you paid for are gone. With DRM, you don't buy and own books, you merely rent them for as long as the retailer finds it convenient.
I don't care how many countries this issue spans across, but I'm pretty sure people of any country would agree that this is illegal.
DRM Lockout
Digital Rights Management (DRM) has always been an issue, whether it be with downloading books, music, or movies. The process has become better over the years, with companies offering open standards for buying and downloading files to your computers or devices. Simply download your media files, save them locally, and back them up for archival.
However, with the rise in users adopting mobile devices globally, a personal computer isn't even in the equation for some… and a perfect example of this is Amazon's Kindle device. With limited internal memory, if you have a lot of books, your Kindle won't be able to hold them all.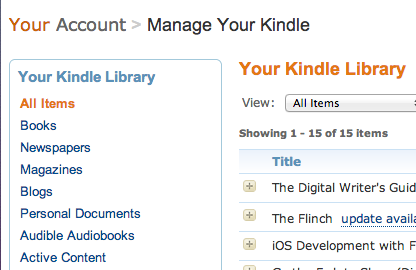 The solution? Your Kindle Library, available to you online on your Amazon account. Re-download any book you have previously purchased as it [should be] yours forever. But, as soon as they lock you out, that's it. Your access to your library is cut.
And that's exactly how they're treating this like: a library. Imagine a local library that has a room specifically for you and your books. When you pay the full buying price for a book, it's placed in this room, then you can come in and read these books you paid for when you want. You can even take these books with you for on-the-go reading. If your home can't hold all your books, that's OK, because all your books you paid for will be in this room when you return. However, if they decide you broke a rule — one that they refuse to tell you about after you allegedly committed the violation — they remove your room, all the books in it, and take back the books you're holding.
Sounds ridiculous, right? But, that's the advantage of having ebooks and "the cloud" instead of physical books; the ability to download and re-download what you purchased to the devices you own. It's why you choose to buy a Kindle and buy ebooks from their online store instead of a Barnes and Noble Nook, or an Apple iPad and iBooks. You are buying into their device, their products, and, ultimately, their services.
How comfortable would you be if everything you ever bought could be taken away from you at any moment, just because?
Digital Privileges Management
George Carlin in his 2008 HBO special, "It's Bad For Ya", said the following about constitutional rights in the USA, but it applies perfectly here:
Rights aren't rights if someone can take them away, they're privileges.
DRM, no matter what company implements it and how they do so, is full of more restrictions than rights. In the case for Amazon's book store, we don't own what we "buy" on Amazon's digital book store. We are merely owning a license to that material; a temporary, limited-use license. To us, our license grants us the ability to download and view our books when we want. To Amazon, that's true, until they decide we can't anymore.
No refunds, no explanation, no chance to dispute it. With DRM, you have no rights.
And it seems with Amazon's digital library, you run the risk of having nothing but a blank Kindle.