The quickest way to lose your customers is to insult them.
It sounds like a very obvious lesson and a fairly easy thing to avoid doing. However, some people and companies can lose sight of what they're doing and inadvertently send the wrong message to their customers.
And this is especially true if you're trying to be funny.
Over-Explaining The Punchline
The other day, my iPhone's App Store had a few app updates, one of which was Camera+ version 3.0.1 by tap tap tap. Instead of my usual pressing of the "Update All" button, I checked to see what they updated with the app. I hadn't used it in a while, so I was curious.
What I found was the company pushing the fact that one of their buttons had been re-branded with a + icon for adding photos from the iPhone's local photo library to Camera+'s internal library.
At first, it was funny to read their update description. However, as I went through, the tone went from humorous and joking to almost a condescending tone. Of their 8 points of updates, 6 of them were dedicated to reiterating the fact that they changed the graphic of a button to be a +.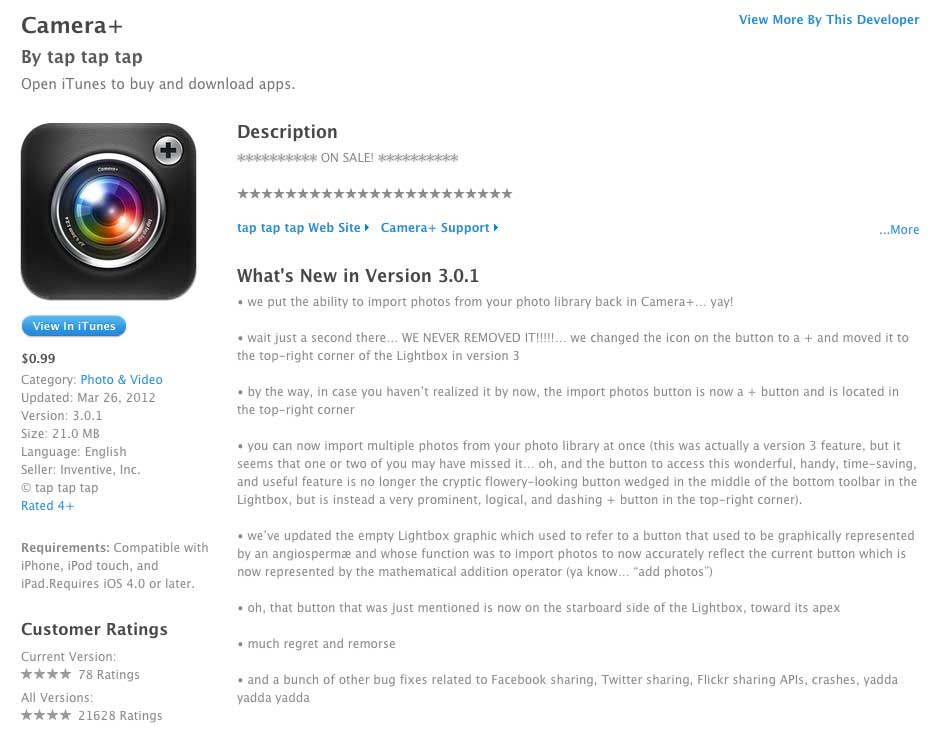 I know they were trying to make a joke of it—All their previous app updates had humorous descriptions. They probably had customers who were confused about the original icon for importing photos into Camera+ from their photo libraries. Confused customers can get easily frustrated.
And when customers are frustrated with an app, the quickest way to vocalize their pain is to give a low rating for the app.
Star Quality: Per Version vs Overall
The difficult truth about having an app on the iTunes App Store is their "wonderful" rating system is highly flawed. Customers rate the app from 1 to 5 stars. With each new version of the app, they get a fresh start on customer ratings for that version. But, there is also a running total of ratings for all versions combined. For some apps, this can be very damaging.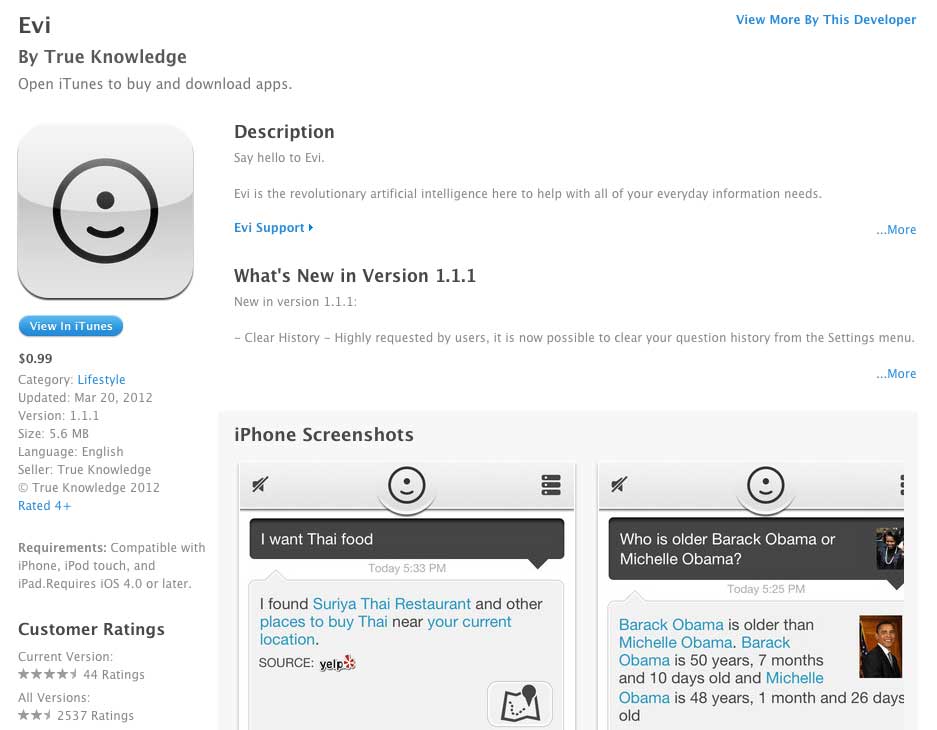 A great app that has fallen victim to this rating issue is Evi, a Siri-like clone app for iOS devices that do not support Siri. The first version became popular so quickly, Evi's servers couldn't handle the data request load. This meant long waits in queries with connectivity issue messages for the user. In response, the users gave low star reviews.
When trying to support these issues, the company didn't joke around and point out the obvious to them repeatedly. They acknowledged users frustrations and expressed their commitment to fixing server and app issues moving forward.
The latest version of the Evi app has (at the time of this writing) and average of 4 1/2 stars from 44 users. Sadly, users gave the app a 2 1/2 star average rating from all versions based on 2,537 reviews.
Beating The Dead Horse To Encourage Customers To Stop
Now, Camera+ is a different story: The current version and all previous versions have an average rating of 4 stars.
Why bring up the rating issue then? Because, the tone of their update list suggests that enough users complained about the functionality of adding photos from their iOS library to their app and prompted the designers and developers to do an update. If enough people were rating the app on a low scale, I would see why there would be a need to bombard the user with (what is basically) a parrot's narration on the new + button.
With the app ranking well, it's hard for me to believe there was such a negative backlash of users from versions 1, 2, and 3 that made the company think they needed to reiterate their point in so many ways.
Learn From The Master (Of Bad Jokes)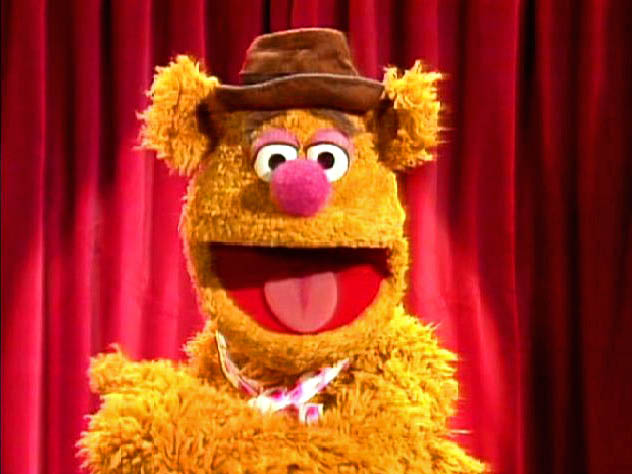 Image via Muppet Wiki
Fozzie Bear is famous for making horrendously bad jokes, but that's what makes him great. Audiences who love the Muppets expect these corny puns from him. His role, like any other Muppet, is to be an entertainer.
His jokes always have a very basic forumla: A question, then the punchline. That's it! He doesn't have to explain or repeat a joke in 6 different ways.
For tap tap tap's situation, they could have condensed their updates to 2 points: One for the + icon and one for the bug fixes. Make it funny, but not overdo it.
If being funny is going to be in your business model, you better have some people to test your jokes on. Try to be mindful on how people receive those jokes. Otherwise, you're just trolling your customers.
And if you're going to be a troll, at least be good at it. There are two other Muppet masters who can teach that trait as well:
Outsider Thoughts
On Twitter, James Wilson gives his thoughts to me on how tap tap tap should follow up:
@Cliffpro If @taptaptap was smart they'd make a joke out of it. Something about long nights and too much redbull. Humor = good pr, usually

— James Wilson (@jimmynotjim) March 27, 2012

While Terry Hartley shares his thoughts on what shouldhave been done:
@Cliffpro definitely insults the users. If enough people are complaining about an item, maybe the dev should make it more user friendly. — Terry Hartley  (@deucehartley) March 27, 2012
"Waka waka!"