Let me set the tone for this post right away: A great way of looking unprofessional is to complain about your clients publicly.
Now, that being said…
We've all been there before; We get hired to do a freelance job, we complete the project, and the client either refuses to pay or disappears when it's time for payment. This is especially true when we're just starting out. There are many reasons for this, and each are unique to the clients and the job.
However, there is one enormous elephant in the room here. The reason freelancers get stiffed is not because they had a bad client. It's because they screwed up.
The World's Longest Invoice: An Insult to Freelancers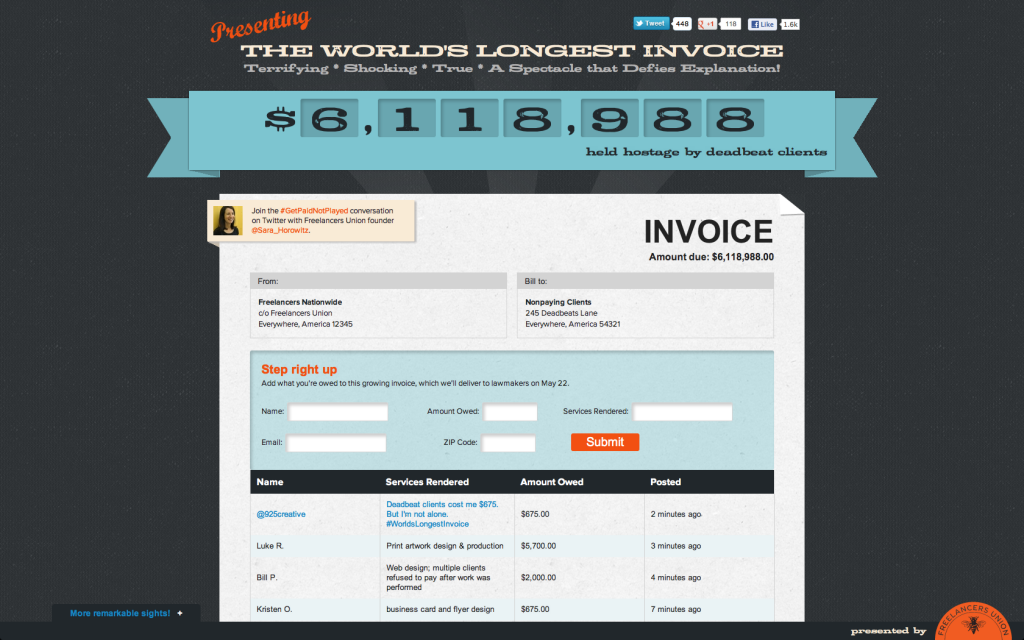 Out of the Internet blue comes this website created by Sara Horowitz of the Freelancer's Union called The World's Longest Invoice. The goal of the site is to let freelancers express the services they rendered and how much they are owed for their work. On the surface, it sounds like a noble project for any freelancer who is owed money.
But take a look at what this site is doing.
The total tally on the top boasts the amount of money "held hostage by deadbeat clients" as the site says. Deadbeat clients, you say? Have these freelancers taken any extra steps to get their money? Did they set up preliminary precautions at the beginning of the project to protect themselves?
I'm going to bet that, for the most part, that isn't the case.
Cheese With The Whine
Here's a few complaints that caught my eye quickly:



…You're kidding, right?
By referring to the clients as "deadbeats"—even if some of these freelancers were legitimately being stiffed—it sends a message that us freelancers have the most negative opinions of our clients. It's opinions like this that drive clients away from our services and over to crowdsourcing websites like 99 Designs.
Also, the site has a line saying to "Add what you're owed to this growing invoice, which we'll deliver to lawmakers on May 22."
To do what, exactly? Cut everyone a giant check? Pass a law that says, "You must pay freelancers, or else you get a whuppin'"?
There are already legal safeguards in place. You just have to make sure to set yourself up for success in the beginning.
Always Use Protection
Every client is different. Most are completely genuine and will (or want to) pay you. Some run into financial issues along the way that are unexpected and cannot be avoided. And others are unfortunately out to save a buck and don't mind screwing you over. You can never plan for the unexpected.
But you can plan for certain scenarios. Here are some tips:
Require a Deposit Before Starting Work: Many professional companies and freelancers who have been doing business for a while require some sort of down payment before they start working. This is usually done to build trust in the client that they don't back out at the last moment. A client is taking your time away from other work, so it would be wise to have them pay for it ahead of time.
Don't Give Them Any Reason to Dislike You: Always do your best work, respond to client requests in a timely manner, apologize for your mistakes; anything you need to do in order to keep the client happy. If they end up not paying you, they don't need to have a list of all the things you did wrong to warrant them not paying you.
Get Everything in Writing: Many freelancers now are working with clients online and communicating via email. Having all communication written out between yourself and your client is always a smart thing to do, especially if they try to take advantage. However, if you're doing business in person, by phone, or you want added protection, it's always wise to…
Draft a Contract: Most designers have heard this tip from listening to Mike Monteiro (or reading his book, Design Is A Job), but it's a smart move to do with any client of any size, even smaller ones. It sets up the scope for the project, timeframe and amounts for payments, and it protects both you and the client from each other. If you don't have a contract drafted, you've got very little to protect yourself when a client doesn't pay. Which leads to my last tip…
Hire a Lawyer: Whether it's to quickly look over your drafted contract, ask for legal advice, or if you decide to pursue collecting from a non-paying client, having a lawyer on your side is a strong ally in case things get ugly. Yes, it can cost a lot to hire one, but it can cost more to not do so.
Who's Fault Is It Really?
If you didn't get payment from a client, is it because they are a "deadbeat", or is it because of you? If you plan before the project starts, get the proper terms set up in writing, and then continue attempting to get payment after the project ends, most of these non-payment issues can be avoided. You may be a freelancer because you love what you do, but unless you're doing charity work (and that hasn't stopped freelancers from complaining on the Worlds Largest Invoice site, sadly), it's all about making money.
And in the end, it's you that needs to get paid. Make it happen.
What are your thoughts? Do you have any tips I didn't cover in this post?