To those following tech and social media news online, Vine is not a new app. However, many people have still yet to discover the fun that is creating a quick, on-the-fly video to share online.
Vine, created by Twitter, is a social video application where you can create  videos from your mobile device to share on your Twitter feed or Facebook wall. Just hold your finger to the screen to start taking video and release when you're done. Take multiple shots by touching the screen when you want to change it up.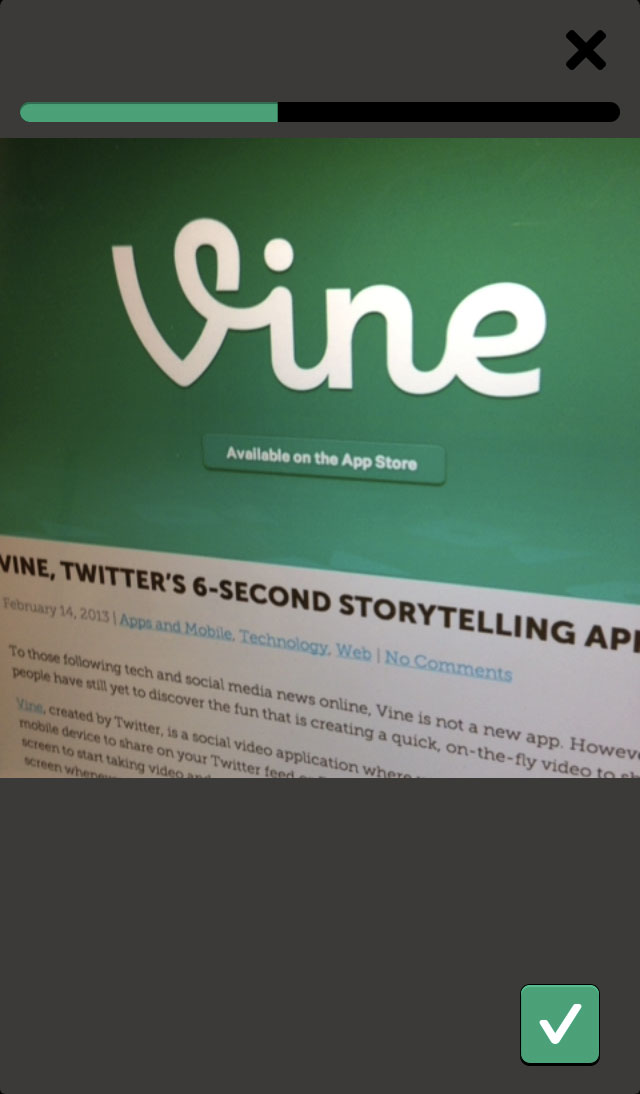 Seems like apps we're already using. However, the big draw to this application is how the videos can be no more than 6 seconds in length. This constraint gives the app some major advantages.
Short and Sweet
You know that friend who wants to show you that "hilariously epic video on YouTube"? Sure, you do. They load the video only to have you wait through an advertisement, then they skim through a few minutes of video — or worse, make you watch the entire video — all the while saying, "Wait, wait, here comes the best part! Just another second!" You get none of that on Vine.
When the video is only 6 seconds long, it's over as quickly as it began. This could be considered creative video making, but it's really a planned social strategy. You can view a quick video almost as fast as an Instagram photo — and share one just as quickly.
Browsing other users videos is as simple as a tap and a flick. Simple UI and clean, easy-to-use navigation makes discovering videos fun and easy. You can add friends from your Twitter feed to follow or search for content via hashtags within the app.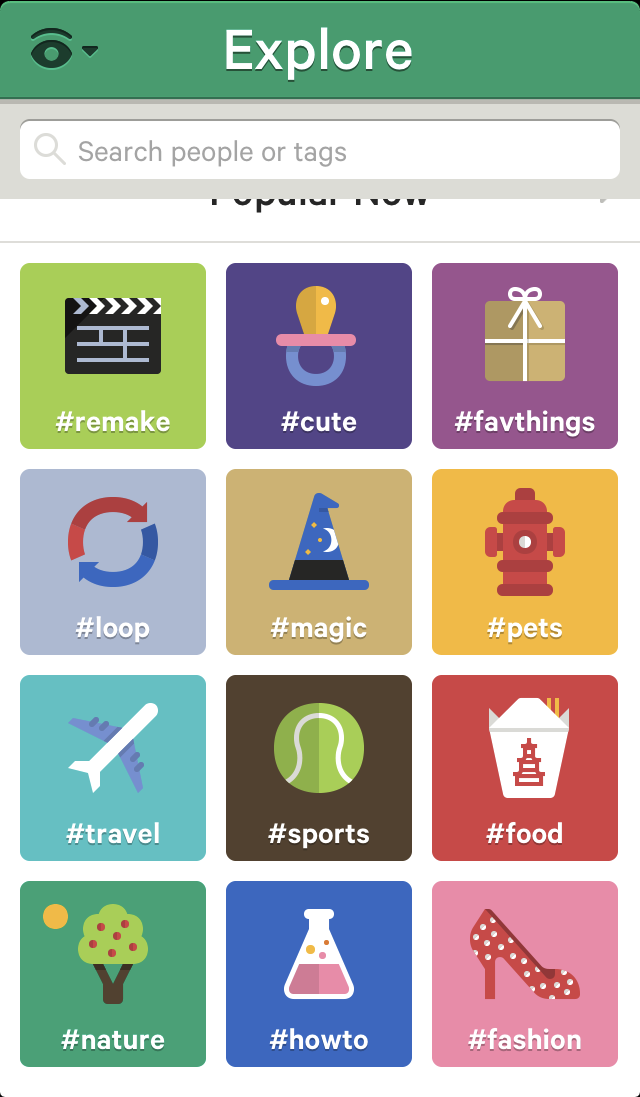 Some Sour Grapes
Even though the app is relatively new, it still has a few bugs and limitations that annoy me about it.
I understand this is an off-the-cuff, Guerrilla-style filmmaking (if it can even be called that) app, but some basic editing features would make this program flawless. For example, being able to import very short video clips or images to drop in would make for some amazing videos. Currently, if you wanted to do a time-lapse, you must have the app open and wait to take your shots. It would be great to take shots over time using the built-in camera app, then import them into Vine and piece them together. Nothing super complicated like Final Cut Pro — or iMovie — editing or anything; just something super basic. Otherwise, you need to trust that the app doesn't crash or glitch out.

And that's my biggest problem with the app. Because of its recent release, it still has a lot of bugs. One attempt to create a video ended with the app crashing as I was about to post and upon reloading the app, was left with an "Upload Failed" message that wouldn't go away. Vine has a nice feature where it saves the finished video clip to your phone before uploading if you want to save it elsewhere. But what good does that do if I can't import and re-attempt to upload it on Vine?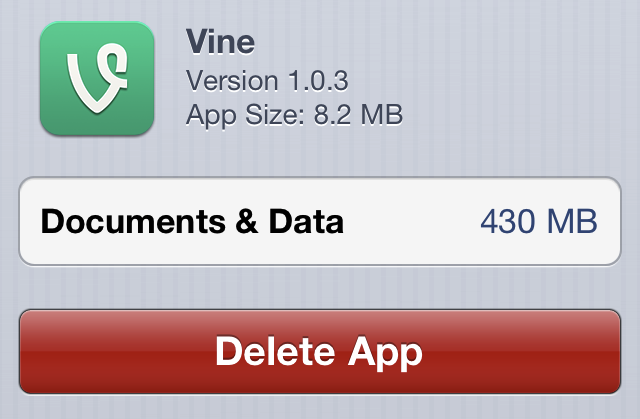 In order for Vine to quickly download and show you these videos on the fly, they have to be stored somewhere, right? On my phone, I found that Vine will store several hundred megabytes of video data just from a few minutes of simple browsing. I'm not sure if the cache cleaning is on a timed interval (hourly, daily, etc.) or if there's an action that triggers it, but it certainly doesn't happen when you close the app. If you're really bored one afternoon and viewed a gigabyte worth of videos, you're stuck with that gig taking up space on your iDevice until it clears its cache. There really should be a manual option for cleanup that doesn't involve deleting the app.
Still Growing
Besides these setbacks, Vine is still an enjoyable app for easy and quick storytelling through video. I know the app is not going to make YouTube/Vimeo quality program on a whim, but its purpose is to create and share short shots very quickly to an audience, be it family and friends or followers.
And, if done correctly, 6 seconds can be plenty of time to tell a story.
Let's play a game! How about… #SuperMarioBros on the #NES? #retro #gaming vine.co/v/bJhxQDTpb7D

— Cliff Huizenga (@Cliffpro) January 27, 2013
What kind of story will you tell in 6 seconds?